Oye Healthy! Slim Shake Meal Replacement Weight Management Formula – 500g (16 Servings)
Oye Healthy! Slim Shake Meal Replacement Weight Management Formula – 500g (16 Servings)
Oye Healthy! Brings a new launch this year for men and women who want to start doing weight management from today. People who prefer the best in a class quality product with superior taste. We understand the value and importance of taste with the quality of protein slim shake meal replacement drink, hence, we bring the ultimate weight management protein slim shake for men and women to start their weight management journey from today.
High Protein with Weight Management Formula: Best in the field with 11g protein, 104 calories and 3g dietary fiber per 30g servings. Enriched with 27 vitamins and minerals per serving. it provides you with the same nutritional value of a meal but with 70% lesser calories.
How to Use: 1) Take 1 scoop of powder. 2) Add 50 ml of skimmed milk and make a smooth paste. 3) Add an additional 250 ml of skimmed milk. 4) Stir properly and your milkshake is ready to consume.
Caution: Not to be used by pregnant and lactating women or by infants, children, adolescents and elderly, except when medically advised. Not for parenteral use. Not to exceed the recommended daily usage. Do not use this product as a sole source of nutrition. This product is not intended to diagnose, treat, cure or prevent any disease. The product shall be stored out of reach of children.
Out of stock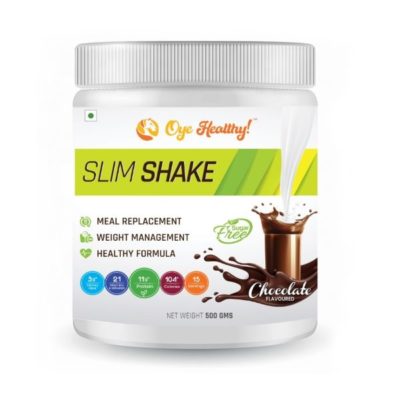 Oye Healthy! Slim Shake Meal Replacement Weight Management Formula – 500g (16 Servings)
Slim Shake: Oye Healthy! is a healthy and tasty shake scientifically formulated by a team of well-qualified nutritionists and dieticians. Weight Management Slim Shake Protein Powder, helps you lose weight with better management without affecting your immune and health system
Meal Replacement: Best Mean replacement shake, Protein shake for weight management in chocolate. Enriched with whey and soya protein, dietary fibers, vitamins and minerals, herbal extracts of green tea, green coffee bean, garcinia cambogia and digestive enzymes for easy digestion
High Protein with Weight Management Formula: Best in the field with 11g protein, 104 calories and 3g dietary fiber per 30g servings. Enriched with 27 vitamins and minerals per serving. it provides you with the same nutritional value of a meal but with 70% lesser calories
FREE from Harmful Ingredient: Suger Free. It has NO Added Preservatives, NO Gluten, NO Artificial Flavours, NO Artificial Colours, and NO Animal Extracts
100% Vegetarian Slim Shake Powder: This breakfast shake is prepared with the utmost taste that you will love to have as your daily meal replacement drink shake for weight management suitable for men and women both
Replace a meal to lose or maintain weight. For best results, it is recommended to replace dinner with low calories or as directed by your healthcare professional in combination with exercise
Direction to Use: 1) Take 1 scoop of powder. 2) Add 50 ml of skimmed milk and make a smooth paste. 3) Add an additional 250 ml of skimmed milk. 4) Stir properly and your milkshake is ready to consume