Duh Neem Love Anti Acne Face Wash
₹325.00
Out of stock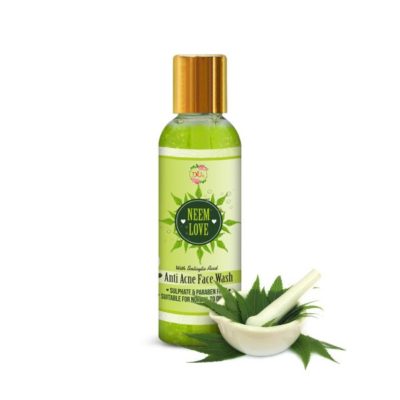 Duh Neem Love Anti Acne Face Wash
With goodness of organic ingredients and salicylic acid to fight stubborn acne !
Benefits:-
-Infusion of organic neem leaves , green tea and salicylic acid to help with stubborn acne
-Addition of basil, turmeric, aloe Vera ,hibiscus to reduce dark spots and blemishes caused due to acne
-Helps to deep cleanse pores and remove impurities away
-SLS,SLES and paraben free
-Suitable for all skin types especially normal to oily.
Key ingredients :
Neem extract, organic neem leaves, green tea extract, basil extract ,turmeric extract, salicylic acid, sodium methyl cocoyl taurate, sodium gluconate, Aqua, vegetable glycerine, potassium sorbate, sodium benzoate.
Directions :Dampen face and massage face with duh neem love anti acne face wash for 2min and wash off with cool water. Use twice daily for best results.
Net volume : 100ml